Pilots with iPhones know how incredibly easy it is to carry information in your pocket that used to take an entire flight bag (and sometimes a visit to the chiropractor afterward!). Whether you sport an iPhone while you fly or not, here are some suggested applications that could prove incredibly useful to have in your pocket.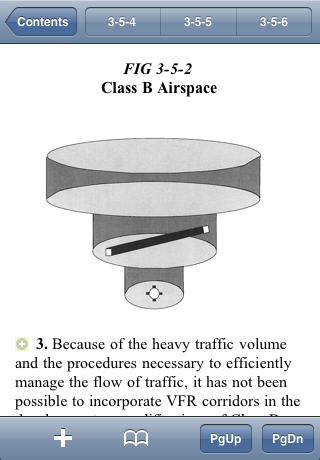 1. PilotAIM ($4.99) – PilotAIM is a great application for carrying around the… you guessed it, the Aeronautical Information Manual. Not only will this rid your flight bag of the 1-inch thick version, you'll be able to easily find the information you are looking for with quick and easy search feature.
2. PilotFAR ($4.99) – Like it's companion volume, the PilotAIM, PilotFAR sports the following features: fully offline access to the FARs, full text search, formatted for a small screen for easy reading, customization feature (which lets you bookmark your "favorite" regulations), email entries, and more.
3. ForeFlight Mobile ($74.99) – While sporting a steep pricing point for even the iTunes app store, ForeFlight Mobile is a great app due to its easy-to-use functionality, and its vast array of features that other applications can only attain but a part. For those wishing to have many things all in one application, this is a great app to add to your list.
4. PilotWizz (FREE) – Many apps in the iTunes App Store are free, and still very good. Sean Harding's PilotWizz is one of this apps. You can save aircraft with its accompanying information (though you have to enter it manually based on the aircraft's POH), and perform a simple weight and balance very quickly. It's essentially a multi-function aviator's calculator all in one application, and is easy to use. It will also help you plan your route of flight.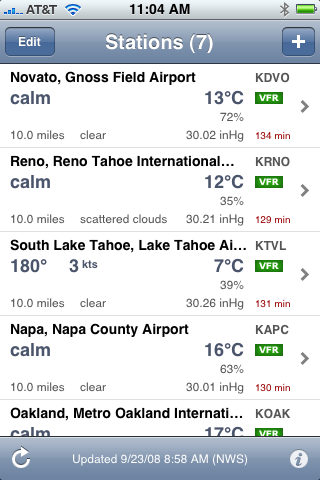 5. AeroWeather (FREE) – This application will prove to be one of the most useful apps for iPhone users who want instant access to the latest TAFs, METARs, and other weather information in one quick look (or tap). Pictured to the right, this app packs a very neat, clean look while packing a lot of information into a small area. Add favorites to your list, or simply search for the airport of your choice. It even has some symbols for VFR weather, MVFR, and wind gusts. Choose between Fahrenheit and Celsius and raw or translated METARs.
If you would like to know more about iPhone apps for pilots, this site is a good site to visit. You can also Google "pilot iPhone apps" and come up with a lot of suggestions. Or simply ask your pilot friend with an iPhone in her hand what apps she uses while flying.
If you have any applications you'd like to recommend, please do so in the comments below!